Plan Your Adventure Bridal Session After Your Wedding Day
Naomi and Anthony had their wedding ceremony with their closest friends and family a few days before we took them on an adventure session. Because they had guests attending their elopement, they chose an easy-to-access location for their ceremony. However, they still really wanted those adventurous mountainous shots for wedding photos, so we knew Crouching Lion would be absolutely perfect for these two for their bridal session the next day! We love the idea of a following-day bridal session, and here's why.
If you are able to afford to have your photographer for two days, we highly recommend this idea. Firstly, you can have your wedding and celebrate with your guests on your wedding day without feeling guilty for leaving them to go off on an adventure. You can focus on the important stuff like getting married (YAY!) and you don't have to worry about any other logistics on the day of your wedding. The next day, you can go on an adventure with just the two of you (and your photographer) while your guests are drinking mai tais next to the ocean. You know that your guests are happy and relaxing so that you can go and have some fun! Also, if you have a bridal session the day after your wedding, you don't have to worry about keeping your dress all clean because you're already married. Woohoo! It's time to have fun and even trash the dress if you're up for it!
If you're considering Crouching Lion for your elopement or your day after bridal session, here are our top suggestions for you to consider before going!
What to Consider When Planning Your Crouching Lion Elopement
Weather
Because this hike is on the eastern side of the island, the weather in this area is oftentimes windy. The wind is inevitable in Hawaii, so we always recommend for our brides to pull their hair up so that it's not completely in their face or letting it loose and watch the wind create magic! It's totally up to you!
There are also often pockets of inclement weather on this side of the island, which means that it can rain off and on during your time on top of Crouching Lion. We recommend checking multiple weather apps to figure out the best time to hike. We use NOAA Radar Pro to check weather conditions by the hour. If it has rained, the trails can be very slippery and muddy. There are sections where you will have to climb ropes; therefore, we recommend packing up all your wedding attire in your backpack and hiking up in regular exercise clothes.
Items to Bring on the Hike
We always advise our brides and grooms to wear hiking clothes and boots on the way up and down the mountain. We would also suggest bringing the following:
Backpack

We recommend bringing a day backpack to store your wedding attire and anything extra you want with you at the top.
Microfiber Towel

The towel can be used to wipe off any sweat or mud from the hike up. You can also use this to change behind once you reach the top. These microfiber towels are our favorite because they're so lightweight and easy to hike with!

This is helpful to make sure everything is in place once you change. You can never go wrong with extra bobby pins.

Snacks

I always get hungry after any type of hiking, so bringing a handful of nuts or a granola bar is always helpful once you reach the top. My favorite hiking snacks are dried fruit and beef jerky!

Water in a reusable bottle

Ditch plastic water bottles and keep your water cold in a hydro flask. These are super easy to carry in your backpack, too!

Headlamps

If you choose to go for sunrise or sunset, there is a likely chance that you will be hiking in the dark at some point. Because this hike can be slippery and muddy, we recommend bringing a headlamp so that you can have your hands free to grab onto roots on the hike.
What Time of Day to Go
We recommend going earlier in the day for sunrise or closer to sunset. Since this is such a popular hike, you often find people enjoying this hike at any point in the day. Going earlier or later in the day can help you avoid most of the crowds. If you are choosing to go at sunrise, make sure you leave with extra time before the sun actually rises so that you can change into your wedding attire and cool off once you reach the top. If you choose to go closer to sunset, make sure that you give yourself plenty of time to change before it gets too dark. If you're heading up or down in the dark, make sure you have headlamps to guide your hike down.
Find a Photographer Who Has Captured an Elopement Here
When researching for a photographer for your hike, find a photographer who has done this hike multiple times. While all couples are attempting these hikes at their own risk and most photographers aren't adventure guides, it is still important to find a photographer that is comfortable navigating these trails both day and night. Because there are multiple trails to get up to Crouching Lion, it easy to get lost – especially in the dark.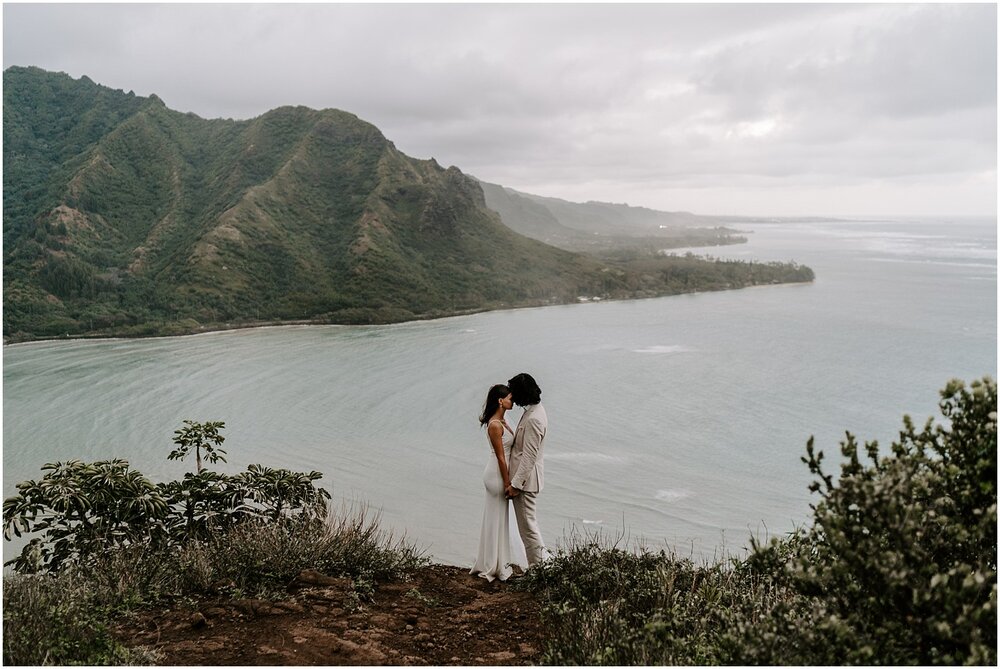 Most importantly, HAVE FUN! If you are interested in more Oahu locations, click here for a full-day Oahu adventure elopement.