Why We Love Sunshower Farms as an Intimate Wedding Venue
I love highlighting different venues on the Big Island! I am really excited to share about Sunshower Farms because Ryan and I had our own wedding reception there when we got married back in 2018! This place will always have a special place in our hearts, and we love sharing its unique features. This venue gives our couples a unique location for their Hawaii wedding. If you're ok not having your wedding close to the ocean, this venue gives you a great alternative — having a ceremony and reception at a coffee farm in the cloud forest of Holualoa!
Have Your First Look in the Coffee Fields
Chris and Kris had their magical first look in the coffee fields of Sunshower Farms. Ryan rode with Chris and a Sunshower Farm's team member on the Kubota to the coffee field location. After a couple of minutes, I rode with Kris (Lady Kris 😉 to the coffee field so we could capture their first look. This location in the middle of the coffee field felt really private and far removed from everything else that was going on at the wedding venue. We recommend packing a little bit of natural bug spray to stand off the feisty mosquitoes while you're out there.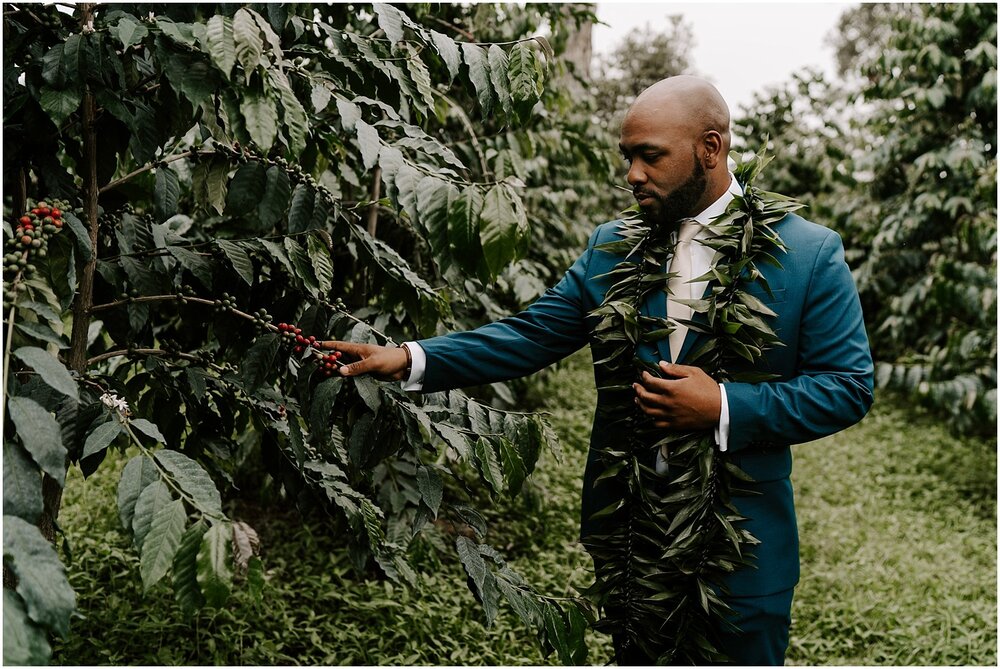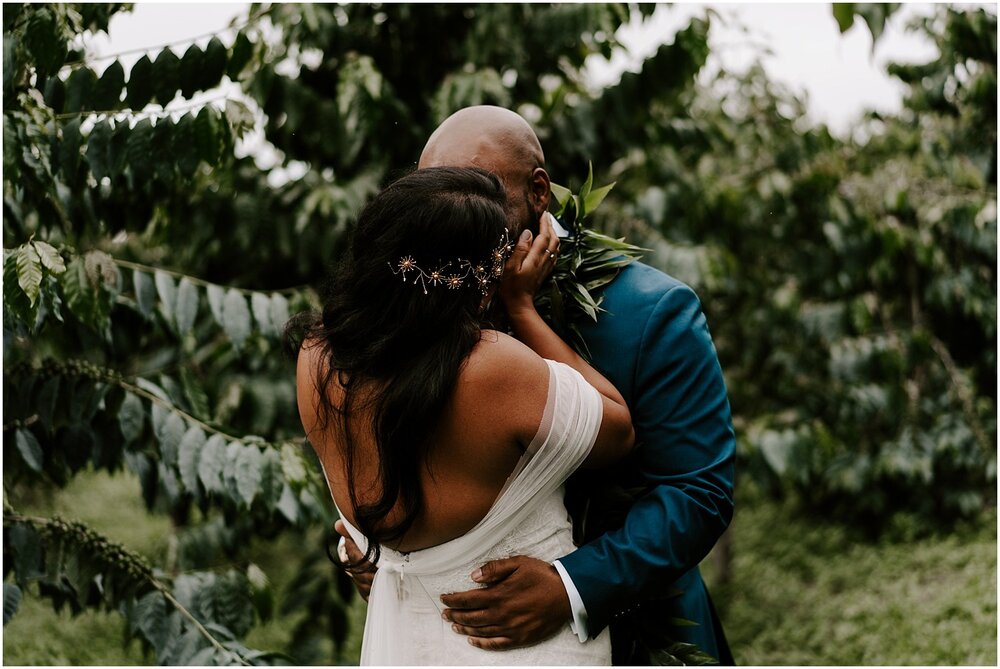 Get Married in Front of the Banana Trees
Kris and Chris chose to get married in front of the banana trees because they loved the look of the huge banana leaves for their ceremony location! This was the perfect amount of space for their intimate-sized group of guests. Sunshower Farms also has another location option for your ceremony that faces the ocean down below. Kris and Chris had a beautiful ceremony where members of both of their families and friends were able to share special words regarding their marriage and relationship.
Include Fresh Coconuts and Wood Fired Pizza on the Menu
Kris and Chris had a coconut station at their wedding! How cool, right?! Da Tree Amigos (Check them out on Instagram @datreeamigos) bring a TON of their coconuts and open them upright on the spot for you. This was such a fun addition to their wedding and was a hit with all of their guests! Another highlight of their dinner menu was the wood-fired pizza that they had for their guests as an appetizer. They had staff near the wood-fired oven creating a variety of pizzas that they served right after it came out of the oven! This is definitely a must if you have your wedding here! We even had this at our wedding reception, and all of our guests absolutely loved it!
Design a Unique Reception Outside with the Ocean Below
Lyla of Lalamilo Flower Girl created the flower masterpiece at Kris and Chris' wedding. From the floral arrangements at the ceremony to the reception, Lyla created a beautiful arrangement that set the mood for the entire day. If you decide to have your dinner at Sunshower Farms, you will have a view of the ocean below if it's a clear day. Even if you can't see the ocean because of the fog that rolls in, you still have an incredibly peaceful and mystical setting for your reception dinner.
Dance in the Farmhouse for Your Reception
After their dinner and friends gave speeches, they had a fun dance reception in the farmhouse. The cake was served, as well as coffee that was sourced locally from Sunshower Farms. How cool, right?! This dance space is perfect for an intimate wedding group where it doesn't feel too big for a smaller group.
Have a Bonfire and Smores to End Your Night
Kris and Chris decided to end their night with their guests with a sweet treat and a warm fire. This is a great option for your guests who want to get a breather after dancing and warm up by the bonfire. It definitely gets chilly up in Holualoa at night, so make sure to bring a cover-up if you decide to hang out by the fire. They had a serving station where their guests were able to make their own unique smores.
Vendors
Venue: Sunshower Farms
Florals: Lalamilo Flower Girl
Makeup: Grace Makeup Artistry
Coconuts: Da Tree Amigos
Cake: Onolicious