Honeymoon Adventure to the Red Sand Beach in Maui
We had been planning this adventure photography session for Sydney and Denver's honeymoon for months. When Ryan and I were in Maui a few months prior to their photography session, we even scouted a perfect hidden waterfall that we could explore with them during their adventure session. Some of the major attractions of the Hana region that attracted Sydney and Denver are the dense jungle areas, a multitude of waterfalls, a unique black sand beach, and even a red sand beach. We were so excited that Sydney and Denver were up for exploring this region of the island with us. The only thing about getting to this area is that you have to drive the infamous Road to Hana. While there is so much beauty to see on this road, it can often be difficult for tourists to drive because of its narrow, crowded roads and tight, sketchy turns. However, if you don't get car sick too easily, we definitely recommend it! It's the ultimate Maui experience!
Even if you're not up for driving to this area of the island, you can also fly from Lahaina to Hana on a small airplane! One of the airlines that does this is Mokulele. If you want to make the most of your time in Hana, we definitely recommend staying at least one night there. Some of our couples have driven two and half hours before sunrise to meet us in Hana; however, we think it's much more enjoyable to take your time getting there and spend some extra time in Hana if you can!
Where to Stay in Hana
Travaasa
If you're on your honeymoon and have the money to splurge, we highly recommend this resort. It is one of those places we've never stayed, but that we have heard awesome reviews for! This place has some stunning views of Hana and an incredibly relaxing atmosphere to enjoy your time here. It's one of the only resorts in this area. It's quiet and luxurious and includes everything you want for your honeymoon!
Airbnb
We absolutely love the flexibility that Airbnb offers! Check out these Airbnb PLUS options! I always love how aesthetically pleasing and functional Airbnb's can be! These were some of the favorites that we found while researching. Again, these options may not be available and/or might more expensive depending on the time of year you are visiting.
Under $400
Under $300
Under $200
Where to Eat in Hana
Thai Food by Pranee 
When we checked into our Airbnb when we stayed in Hana, the number one recommendation was this Thai spot! We were not disappointed! Definitely check this place out if you are a fan of Thai food. Bonus: It's right next to the red sand beach. Make sure to check out the red sand beach after you've hiked!
Local food trucks
There are so many food trucks in Hana worth checking out! Hana is a small town, so you won't have trouble locating the area where the majority of food trucks are. They have everything from barbeque (Hawaiian style), seafood, thai, Hawaiian options for you to try!
Cook at your Airbnb 
The best thing about an Airbnb is that you can cook your own food! We would recommend buying food before coming to Hana, because Hana only has one small grocery store. A lot of the items at the grocery store are priced high, and there is a limit of how much this store offers. While we recommend getting your main ingredients from stores back in Lahaina, you don't want to miss the banana bread and fruit stands along the Road to Hana!
Black Sand Beach Honeymoon Sunrise
Before the morning of their sunrise black sand beach session, Ryan and I checked all of our weather apps for the forecast. Every single one of our apps was saying that it was going to be downpouring all morning long. While rain has never stopped us in the past, we wanted to check in with Sydney and Denver to give them some alternative options in case it was downpouring and unsafe to access some of the spots we wanted to go to. When we called Sydney and Denver to see what they wanted to do, they opted to wait and see until the morning to decide. We provided them with alternatives, but we all went to sleep that night praying that the rain would hold off (at least for a little while) for their honeymoon sunrise session.
When Ryan and I woke in the pitch dark to meet Sydney and Denver at the black sand beach, we were so excited to realize that it was still and quiet and… no rain yet! We ventured down to the beach where we watched the most incredible sunrise together. There's nothing quite like waking up and experiencing a sunrise together to start your day! As we captured Sydney and Denver at the black sand beach, we also got to know more about them and their personal love story. They had known each other since high school. Sydney admits that she always remembers thinking how cute Denver was, even in high school. However, they didn't connect as more than friends until later on in their lives. And once they figured out how deep their feelings were for one another, they never looked back.
Unique Red Sand Beach Photography Session
After our time spent at the black sand beach, we all decided a session at the red sand beach was going to be the perfect addition to their adventure. This red sand beach is like nothing else I've seen before. The way that it's formed, the rich color of the blue water, and the way the red rock compliments the scenery make this beach so unique and picturesque. It's honestly one of the most beautiful beaches I've ever seen. We were lucky enough to visit without a ton of people there. However, because this beach is so beautiful and one of the main attractions in Hana, we recommend visiting in the early morning or closer to sunset to avoid the major crowds.
One of the visions Sydney and Denver had was to hop in the water with their clothes and capture some intimate shots. Whenever our couples have ideas, we are always down to make them happen! We were thrilled to capture some of these intimate shots of Sydney and Denver! After our time at the red sand beach, it was time to switch up the scene and go chase some waterfalls!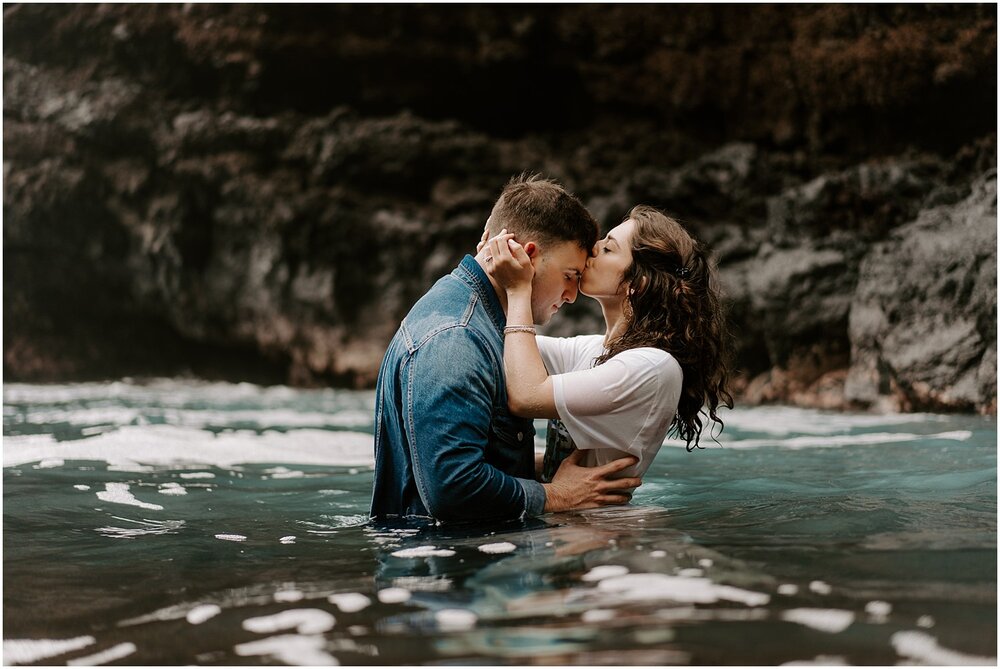 Finding Hidden Waterfalls on the Road to Hana
My absolute favorite aspect of the Road to Hana is being able to see and access so many waterfalls along the way! I would say this is the highlight of the entire trip! And the banana bread! You can't forget the banana bread! While I recommend driving the Road to Hana earlier in the morning so that you can avoid too many people on the road, we also suggest getting out and exploring the waterfalls that you see off the side of the road. We took Sydney and Denver to a waterfall we had found a couple of months prior. We loved having this waterfall all to ourselves for the end of their session! They were thrilled to be able to capture more in the water shots in their bathing suits this time.
If you're looking for other places around Maui to adventure, check out these adventure sessions below!